Silver Lake / June Lake Loop
Lake Name: Silver Lake Elevation: 7,500
Road condition: Paved
Day hike fishing: Parker Lake
Region: Mono Basin Scenic Area Ranger Station & Visitor Center 760-647-3044 Area/description: June Lake Loop Lakes
Lake size: Depth: Species:
Closest town or supplies: June Lake Village
Contacts: June Lake Chamber of Commerce (760) 648-7584; Mono Lake Ranger District (760) 647-3044; Silver Lake Resort (760) 648-7525; Ernie's Tackle (760) 648-7756
Facilities: Resort, marina, grocery store, bait and tackle, RV campground, pack station
Nearest campground: Silver Lake Campground
Boating: Boat launch
Fishing season: General
Tips:
Favorite lures or bait: (See Category: Fishing Tips – Best Lures and Bait)
Favorite fly patterns: (See Category: Fishing Tips – Best Fly Patterns and Techniques)
Stocking information: 50,000 +
Additional information:
Nearby fishing: June Lake, Gull Lake, Reverse Creek, Rush Creek, Grant Lake
Directions: From Highway 395 drive approximately 14 miles past the Mammoth Lakes exit. Turn left at the sign for June Lake.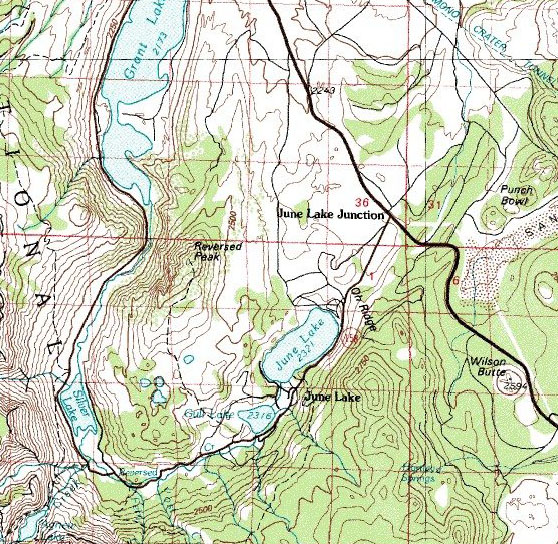 Map courtesy of mytopo.com.

0 TrackBacks
Listed below are links to blogs that reference this entry: Silver Lake / June Lake Loop.
TrackBack URL for this entry: http://www.guidetohighway395.com/cgi-bin/mt/mt-t.cgi/44