Middle Gaylor Lake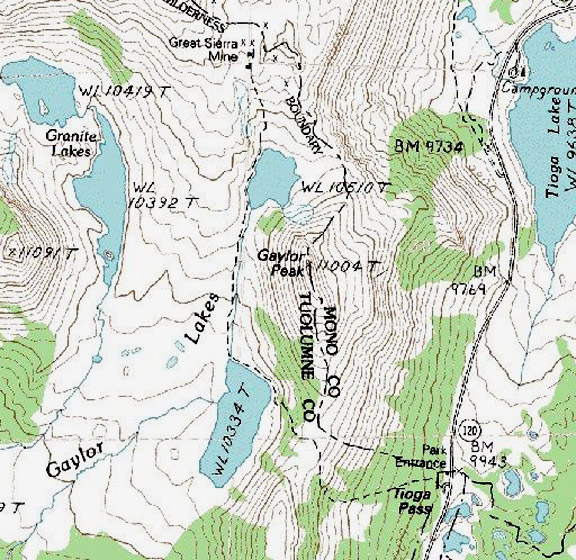 Map courtesy of mytopo.com.

Middle Gaylor Lake (Upper and Lower)
Elevation: 10,350
Day hike fishing
Region: Tioga Pass / Highway 120 Area/description: Eastern entrance to Yosemite National Park
Lake sizes: Unknown Species: Brook trout
Closest town or supplies: Tioga Pass Resort; Lee Vining / Bell's Sporting Goods (760) 647-6406
Nearest campground: Ellery Lake Campground, Tioga Lake Campground
Fishing season: General Best times: Early summer until Fall
Fishing Tips: (Hopefully I can report back the summer of 2008.)
Favorite lures or bait: Use small lures such as Kastmasters, Daredevils and Panther-Martins. Bring smaller lures, but have a variety of color combinations to entice both shallow and deep cruising trout. (See Category: Fishing Tips – Best Lures and Bait)
Favorite fly patterns: Fly & Bubble technique with small nymphs such as Hare's Ear, Zug Bug, Bead-Head Prince Nymph, Pheasant Tail or a Tellico Shrimp. (See Category: Fishing Tips – Best Fly Patterns and Techniques)
Stocking information: Stocking programs were discontinued in 1991.
Additional information: It is not uncommon for hikers living at lower elevations to experience aching lungs, headaches and nausea due to altitude sickness. Be sure to drink plenty of purified or filtered water all day on the trail whether you are thirsty or not. Bring along sun screen, sun glasses, a hat and an outer garment. Additionally, I always recommend carrying in your day pack a first aid kit, a plastic rain coat and a mosquito net just in case.
Nearby fishing: Tuolumne Meadows
Directions: From the junction of Highway 395 and Highway 120 on the outskirts of Lee Vining, turn west on Highway 120 and proceed approximately twelve miles to the park entrance. The trail to Middle Gaylor Lake is near Tioga Pass Lodge. It is a strenuous one mile hike to this stark, wind-swept and barren looking lake. From my research a number of writers recommend Upper and Lower Gaylor Lakes, which offer better fishing and significantly less pressure, no doubt due to the high elevation and the stress that creates on lungs un-accustomed to depleted oxygen.
0 TrackBacks
Listed below are links to blogs that reference this entry: Middle Gaylor Lake.
TrackBack URL for this entry: http://www.guidetohighway395.com/cgi-bin/mt/mt-t.cgi/197