Middle Fork San Joaquin River / Devils Postpile / Mammoth Area
Name of river: Middle Fork of the San Joaquin River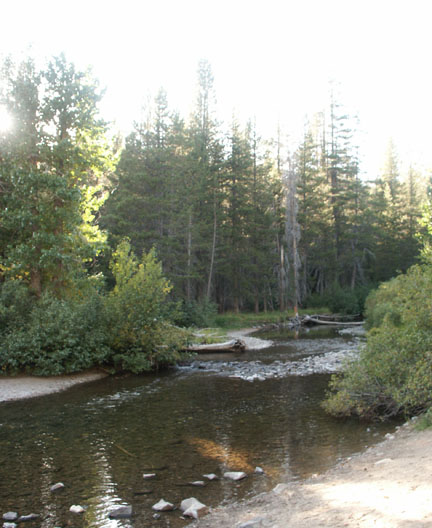 Road condition: Paved to gravel
Region: Devils Postpile National Monument / Mammoth Lakes Area
Description: Although it receives tremendous fishing pressure, the middle fork offers splendid scenery, a variety of water and some of the most beautiful hiking areas in the Sierra Mountains that can be reached by a car. (See driving restrictions noted on Sotcher Lake. Yes, this water gets fished out in a matter of three or four days after its weekly stocking, but skilled anglers can always find the wild ones and the smart stockers. You would be foolish to visit Devils Postpile National Park and not bring along your fishing gear because the shuttle buses provide just such storage!
Species: Planted Rainbows and wild Browns and Brookies
Closest town or supplies: Mammoth Lakes
Contacts: Red's Meadow Resort and Pack Station (800) 292-7758 Stop! Here is a must see web site with video streams of pack trips offered by Red's Meadow –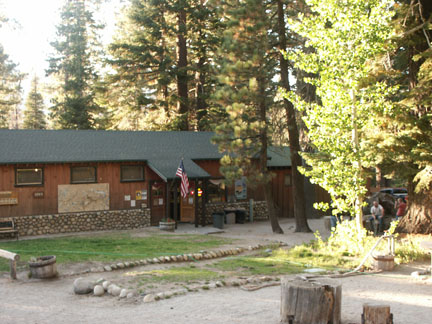 Mammoth Lakes Visitor Bureau (888) 466-2666 / (760)-924-5500; Rick's Sports Center (760) 934-3416; The Trout Fitter fly shop (760) 934-2517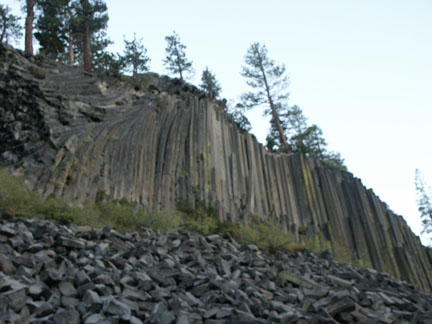 Nearest campground: Minaret Campground, Devils Postpile
Fishing season: General Best times: Early in the season and again in the fall after the pressure drops.
Tips:
Favorite lures or bait: (See Category: Fishing Tips – Best Lures and Bait)
Favorite fly patterns: See Category: Fishing Tips – Best Fly Patterns and Techniques)
Stocking information: 19,000. The heaviest planting is at the Minaret Campground.
Nearby fishing: Sotcher Lake, Starkweather Lake
Additional information:
Directions: From Highway 395, turn west on Mammoth Lakes Road and drive three miles to Minaret Road. Turn right on Minaret Road and travel almost twelve miles to the Devils Postpile Monument. Look for a sign and road that forks to the right.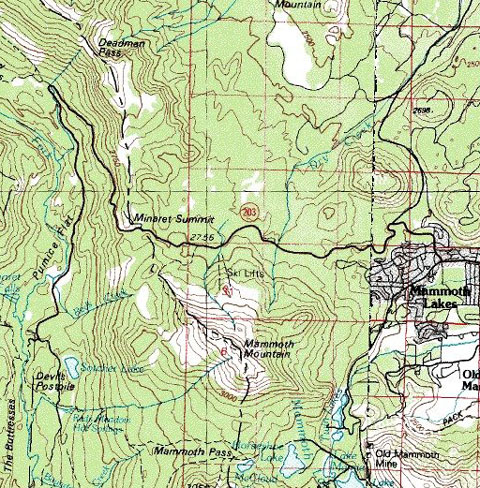 Map courtesy of mytopo.com.


Note: If you are visiting the Red's Meadow area via the shuttle bus, here are the scheduled stops:

Agnew Meadows - trailheads for Shadow, Ediza, Thousand Island & Garnet lakes; Pacific Crest & John Muir trails; pack station; & camping;

Starkweather Lake – fishing

Upper Soda Springs Campground – ½-mile walk to camping & river fishing;

Pumice Flat Campground turnoff - camping; group camping by reservation only; Ranger's cabin; pay phone; & amphitheater

Minaret Falls Campground turnoff – 1-mile walk to camping, a view of the falls from the riverbank & river fishing

Devils Postpile National Monument - camping; picnicking; Ranger Station; pay phone; information; books & maps; tours & programs; trailheads for Minaret & Beck lakes, Summit Meadow & John Muir Trail. 1/4-mile walk to the postpile rock formation

Sotcher Lake - fishing; day hiking & picnicking

Reds Meadow Campground - camping; bath house; trailheads for Mammoth Pass & Pumice Flat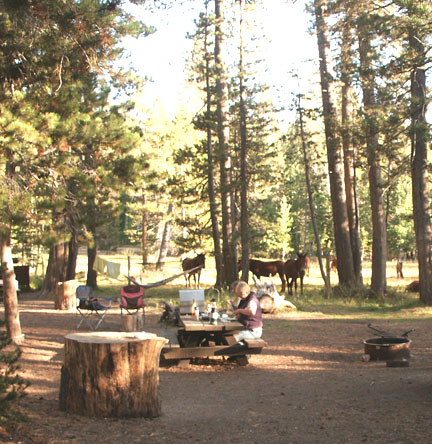 Rainbow Falls – trailhead for Fish Creek; 1-1/4 mile hike to the falls
Reds Meadow Resort - pack station; store, cafe, cabins, pay phone.