Sotcher Lake / Mammoth Lakes Area
Lake Name: Sotcher Lake Elevation: 7,600
Road condition: Paved to gravel Note: Mandatory travel restrictions are enforced for the Middle Fork of the San Joaquin River and the Devils Postpile National Monument area. Only campers are allowed to drive on the road from 7:00 A.M to 7:30 P.M. A shuttle bus operates repeatedly throughout the day from the Mammoth Mountain Ski area for visitors during these restricted travel times. "All visitors accessing the recreational opportunities and activities in the Reds Meadow Valley are charged a per-person transportation fee. Fees are collected during the entire open season and all hours of the day. Fees are used to operate the shuttle system. If visitors arrive when the station is closed, their fee will be collected upon their exit from the valley. Passes are available at the Shuttle Terminal at Mammoth Mountain Main Lodge Gondola Building and also at Minaret Vista Station for those few exceptions that are not required to ride the bus.
The shuttle service to Reds Meadow/Devils Postpile began in 1979. The shuttle was determined necessary to reduce the impact on the environment from vehicle traffic. The narrow road into the Reds Meadow area serves as the only access to the San Joaquin River Valley , the Devils Postpile National Monument , Rainbow Falls and 5 trailheads leading into the John Muir and Ansel Adams Wilderness Areas, including the Pacific Crest Trail and John Muir Trail. The road also allows access to 186 campsites (6 campgrounds), 4 nature trails, and 2 day use lakes, Reds Meadow Pack Station and Lodge, and Agnew Meadows Pack Station. Vehicle use and Exceptions
Excessive vehicle use is the reason for a mandatory shuttle bus. However, some exceptions are recognized. Following is a list of most exceptions:
Vehicles entering the valley before 7:00 am , or after 7:30 pm
Vehicles carrying passengers with a disabled placard (once in the valley visitors must hike to most sites)
Vehicles towing horse trailers or other livestock
Campers camping in the Reds Meadow area
Overnight Resort Guests
Administrative vehicles
Vehicles carrying car top boats, canoes, kayaks for use in valley
Exceptions are still charged the per person transportation fee."
http://www.fs.fed.us/r5/inyo/recreation/redsmeadow.shtml
Name of Lake: Sotcher Lake
Region: Mammoth Lakes Ranger District 760-924-5500
Area/description: Devil's Postpile / Red's Meadow / Middle Fork, San Joaquin River
Lake size: 22 acres Species: Rainbows and Brookies
Closest town: Mammoth Lakes
Contacts: Red's Meadow Resort and Pack Station (800) 292-7758 Stop! Here is a must see web site with video streams of pack trips offered by Red's Meadow –
Mammoth Lakes Visitor Bureau (888) 466-2666 / (760)-924-5500; Rick's Sports Center (760) 934-3416; The Trout Fitter fly shop (760) 934-2517.
Facilities: Red's Meadow Resort and Pack Station
Nearest campground: Agnew Meadows Campground; Red's Meadow Campground; Devils Postpile National Monument Campground
Fishing season: General
Tips:
Favorite lures or bait: (See Category: Fishing Tips – Best Lures and Bait)
Favorite fly patterns: (See Category: Fishing Tips – Best Fly Patterns and Techniques)
Boating: No gas-powered motors
Stocking information: 12,000 +
Additional information: This is an excellent small lake for float tube fishing.
Nearby fishing: Middle Fork of the San Joaquin River, Starkweather Lake
Directions: From Highway 395, turn west on Mammoth Lakes Road and drive three miles to Minaret Road. Turn right on Minaret Road and travel almost twelve miles to a fork in the road. Take the left fork and drive less than a half-mile to the lake. (See above information on Mandatory Travel Restrictions.)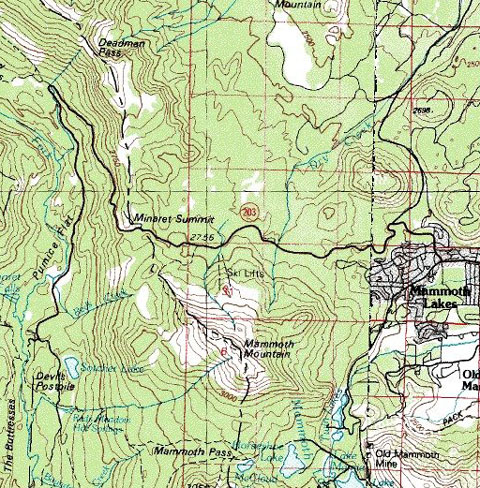 Map courtesy of mytopo.com.

0 TrackBacks
Listed below are links to blogs that reference this entry: Sotcher Lake / Mammoth Lakes Area.
TrackBack URL for this entry: http://www.guidetohighway395.com/cgi-bin/mt/mt-t.cgi/36