Starkweather Lake / Mammoth Area / Devils Postpile Area
Lake Name: Starkweather Lake Elevation: 7,800
Road condition: Paved to gravel Note: Read about the Mandatory Travel Restrictions noted on Sotcher Lake
Day hike fishing: Sherwin Lakes, Middle Fork of the San Joaquin River
Region: Mammoth Lakes Ranger District
Area/description: Devil's Postpile / Red's Meadow / Middle Fork, San Joaquin River
Lake size: 3.5 acres Species: Rainbows
Closest town: Mammoth Lakes
Contacts: Red's Meadow Resort and Pack Station (800) 292-7758 Stop! Here is a must see web site with video streams of pack trips offered by Red's Meadow –
Mammoth Lakes Visitor Bureau (888) 466-2666 / (760)-924-5500; Rick's Sports Center (760) 934-3416; The Trout Fitter fly shop (760) 934-2517.
Facilities: Red's Meadow Resort and Pack Station
Facilities: Resort and pack station
Nearest campground:
Fishing season: General
Tips:
Favorite lures or bait: (See Category: Fishing Tips – Best Lures and Bait)
Favorite fly patterns: (See Category: Fishing Tips – Best Fly Patterns and Techniques)
Stocking information: 10,000+
Additional information:
Nearby fishing: Middle Fork of the San Joaquin River, Sotcher Lake
Directions: From Highway 395, turn west on Mammoth Lakes Road and drive three miles to Minaret Road. Turn right on Minaret Road and travel nine miles to this shallow lake on the right.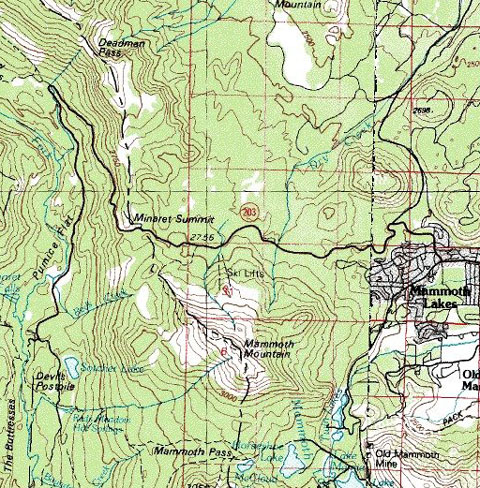 Map courtesy of mytopo.com.