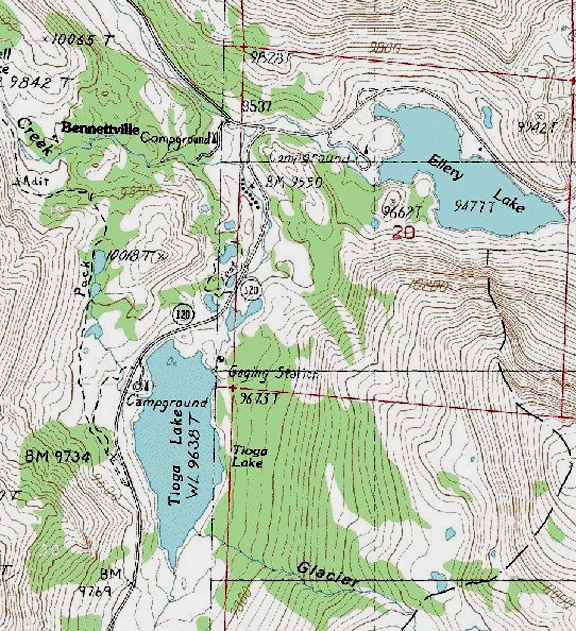 Map courtesy of mytopo.com.

Tioga Lake
Road condition: Paved Elevation: 9,500
Region: Tioga Pass / Highway 120 / Just outside Yosemite National Park
Description: A beautiful lake surrounded by towering mountain tops, Tioga Lake is a popular camping and fishing spot just outside the park
Lake size: 73 acres Species: Planted Rainbow trout
Closest town or supplies: Tioga Pass Resort, Lee Vining
Contacts: Lee Vining Chamber of Commerce (info@leevining.com; Visiting Mono Lake www.monolake.org/visiting/; Mono Lake Visitor Center (http://www.monolake.org/monomap/vc.htm
Nearest campground: Tioga Lake Campground
Favorite lures or bait: Use small lures such as Kastmasters, Daredevils and Panther-Martins. Bring smaller lures, but have a variety of color combinations to entice both shallow and deep cruising trout. (See Category: Fishing Tips – Best Lures and Bait)
Favorite fly patterns: Fly & Bubble technique with small nymphs such as Hare's Ear, Zug Bug, Bead-Head Prince Nymph, Pheasant Tail or a Tellico Shrimp. (See Category: Fishing Tips – Best Fly Patterns and Techniques)
Stocking information: 35,000 annually
Nearby fishing: Ellery Lake, Saddlebag Lake
Additional information: The lake does not have a boat launch, although small prams and canoes may be carried to the water. The best chance to catch a carry-over trout is at the Glacier Creek inlet. Glacier Creek also has some small Brook trout in the area just above the lake.
Directions: From the junction of Highway 395 and Highway 120 on the outskirts of Lee Vining, turn west on Highway 120 and proceed approximately 11 miles just past Ellery Lake.