Lake Name: Crystal Lake Elevation: 9,600
Road condition: Paved to trailhead parking
Day hike fishing: 1.3 miles with a moderate grade
Region: Mammoth Lakes Ranger District 760-924-5500
Area/description: Mammoth day hike from Lake George
Lake size: 13 Species: Rainbows, Brookies and Golden Trout
Closest town or supplies: Mammoth Lakes
Contacts: Mammoth Lakes Visitor Bureau (888) 466-2666 / (760)-924-5500; Rick's Sports Center (760) 934-3416; The Trout Fitter fly shop (760) 934-2517.
Facilities: Lodge, marina, grocery store, bait and tackle, coin-laundry, coin-showers, RV campground
Nearest campground:
Fishing season: General Best times:
Tips:
Favorite lures or bait: Use small lures such as Kastmasters, Daredevils and Panther-Martins. Bring smaller lures, but have a variety of color combinations to entice both shallow and deep cruising trout. (See Category: Fishing Tips – Best Lures and Bait)
Favorite fly patterns: Fly & Bubble technique with small nymphs such as Hare's Ear, Zug Bug, Bead-Head Prince Nymph, Pheasant Tail or a Tellico Shrimp; for larger trout be sure to have some good streamer patterns, particularly the Olive Matuka, Woolly Buggers and leech patterns. (See Category: Fishing Tips – Best Fly Patterns and Techniques)
Additional information:
Nearby fishing: Lake George, Lake Mamie, Lake Mary, Twin Lakes
Directions: From Highway 395 turn west at the junction with Highway 203 and drive through Mammoth Lakes. Turn on Lake Mary Road and drive 3.5 miles to the lake. From the parking lot, take the Crystal Lake Trail 1.3 miles to Crystal Lake.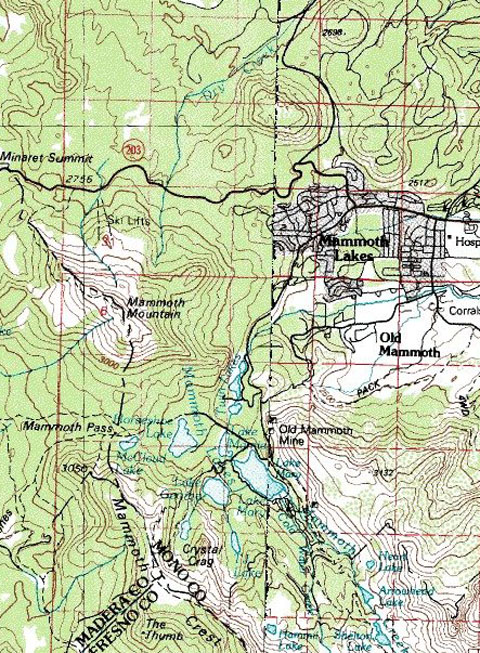 Map courtesy of mytopo.com.