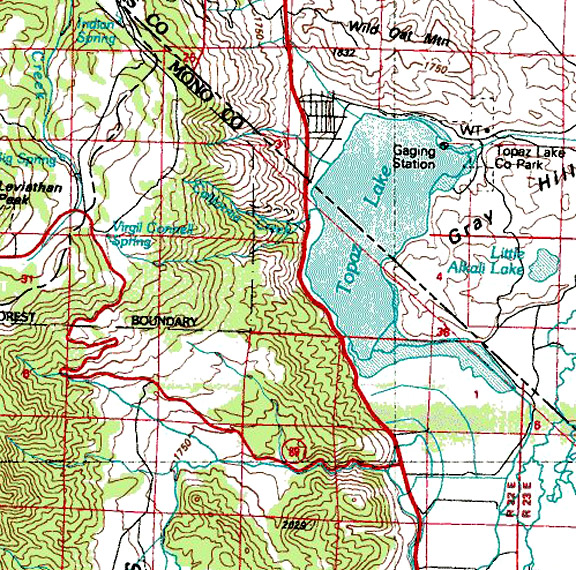 Map courtesy of mytopo.com

Highway 89 Side-Trip West of Topaz Lake on Highway 395
Elevation: 7200
Road condition: Paved
Region: Alpine County / Carson River Drainage
Area/description:
Lake size: 129 acres Depth:
Species: Large Lahontan cutthroats reaching 20+ inches
Closest town or supplies:
Contacts: Alpine Fly Fishing, 14841 Highway 89, Markleeville, CA 96120, (530) 542-0759 0r (530) 694-2562.
Facilities: Portable toilets
RV campground:
Nearest campground: Silver Creek (See Highway 4), Markleeville Campground
Boating: Gasoline motors are prohibited, but car top prams with electric motors are allowed. Most anglers use float tubes and pontoon kick-boats. Launching is primitive from the parking lot down an access road to the water.
Fishing season: General fishing season: Opens last Saturday in April and closes on the last Sunday in October.
Tips: A quiet float tube and a black Woolly Bugger is the best way to start. But don't look for solitude. This little lake can become mighty crowded with tubers until the blustery conditions of fall arrive.
Fishing restrictions: (Review recent regulations.) Artificial lures and flies, barbless hooks and catch-and-release. The lake is only open Friday through Sunday.
Favorite fly patterns: Standard stillwater patterns such as Woolly Buggers, Green Matukas, Denny Rickard's Seal Buggers and tried-and-true nymphs that work on Bridgeport Reservoir and Crowley Lake work just as well here.
Additional information: The DFG uses the lake as a rearing lake for the endangered Lahontan Cutthroat trout, which have been hybridized in many lakes in the region. Eggs are gathered and sent to hatcheries at Hot Creek and Mount Shasta. Many of these hatched fingerlings return to the East Fork Carson River.
Nearby fishing: East Fork Carson River, Silver Creek
Directions: From Highway 395, turn left at the junction with Highway 89 and proceed over Monitor Pass eight miles to an un-marked dirt access road to the lake parking lot. The lake is approximately four miles from the junction with Highway 4.