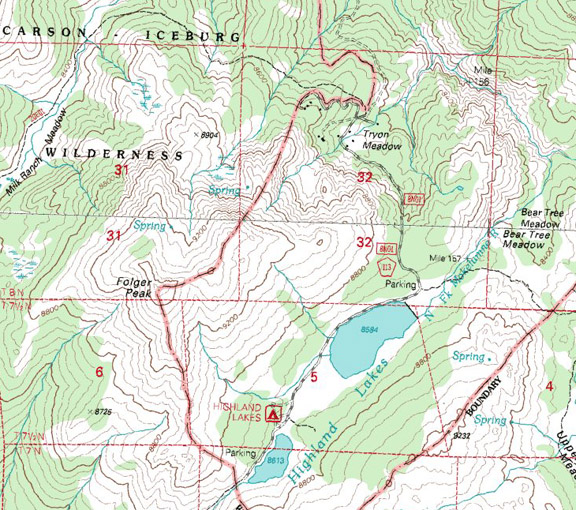 Map courtesy of mytopo.com



Upper and Lower Highlands Lakes / Highway 4
Elevation: 8,600
Road condition: Paved Note: Highway 4 opening across Ebbetts Pass typically happens in late April or early May; however, after a heavy snow-pack year, the road may not be cleared until late May. During heavy snow years, Highland Lakes Road will not be open until late May or June. Call ahead for early season arrival. Trailers are not recommended.
Day hikes to fishing: Highland Creek is the outlet to Upper Highland Lake, which eventually works its way down the mountain five miles to Spicer Reservoir. It can be tough hiking, but fishing is good for pan-sized rainbows.
Region: Ebbetts Pass area Area/description: Situated in a high altitude alpine setting, Highland Lakes offer fishing in headwater lakes, as well as in the small tributary creek, Highland Creek. Heading to the lakes from Highway 4, the road passes by the North Fork Mokelumne River, which good fishing for those willing to prowl and work a lot of water.
Lake size: Depth: Species: Stocked fingerling brook trout and carry-over populations.
Closest town or supplies: Markleeville
Contacts: Calaveras Ranger District, (209) 795-1381
Facilities: None
Nearest campground: Highland Lakes Campground
Boating: These two small lakes are best suited for tubers, but keep in mind that the area is frequently wind swept.
Fishing season: General Best times:
Tips:
Favorite lures or bait:
Favorite fly patterns:
Stocking information: 500 fingerlings in the upper lake and 1500 fingerlings in the lower lake.
Additional information: The fishing in these lakes can best be described as "fair" fishing for dinks.
Nearby fishing: The meadow section of the North Fork Mokelumne River that parallels Highland Lakes Road offers good fishing for fly anglers who keep probing and moving.
Directions: From Highway 395, turn north on Highway 89. Drive ____ miles to the junction with Highway 4. Turn left (west) and drive ______miles to Ebbetts Pass. Continue 1.5 miles west over the pass and turn left on Highland Lakes Road. Drive 7.5 miles to the campground.