Name of river: Owens River below Pleasant Valley Reservoir
Road condition: Paved
Region: Bishop
Description: The Wild Trout Section begins from the footbridge below the campground for 4.4 miles. It is a catch-and-release fishery requiring barbless flies and lures. The river is fast flowing during the spring and even into the summer. Best fished from a boat, the Wild Trout Section offers prolific hatches, lots of bank vegetation and an abundance of fat trout, particularly big, fat Browns. Popular in the spring before run-off and again in the fall, most devotees prefer manageable flows less than 300 CFS (cubic feet per second). Reached from Pleasant Valley Road, the Wild Trout Section flows past a towering chalk bluff, through riparian bottom land lined with shrubs, willows, cottonwoods and rangeland. A sign denotes the end of the Wild Trout Section near Chalk Bluff Road. From here on down there are no gear restrictions. From here to Warm Springs Road, DFG stocks 66,000 Rainbows along with hefty Alper stockings. Most of the fish caught will be from 10-12-inches, although larger Rainbows and Browns are not uncommon. The best fishing is down to the Collins Road crossing. From Collins to Warm Springs Road the water flowing from Crowley Lake and then Pleasant Valley Reservoir begins to heat up during the summer pushing trout upstream.
Closest town or supplies: Bishop
Contacts: Bishop Chamber of Commerce and Visitor Center (760) 873-8405; Barret's Outfitters (760) 872-3830; Brock's Flyfishing Specialists (760) 872-3581; Culver's Sporting Goods (760) 872-8361; Mac's Sporting Goods (760) 872-9201
Nearest campground: Pleasant Valley Reservoir
Fishing season: Year-round
Tips:
Favorite lures or bait: Use lures such as Kastmasters, Thomas Buoyants and Panther-Martins. Bait fishermen will need weight to get to the bottom. As the river becomes thick with weed growth as temperatures rise, fly anglers have an advantage.
Favorite fly patterns: Dry fly action in the spring and early summer consists mostly of Caddis hatches as well as some mayfly hatches, particularly baetis and trico hatches in late summer and fall. Popular nymphing techniques and patterns work well throughout the summer, and streamers work best in the fall.
Stocking information: 66,000 +
Nearby fishing: Pleasant Valley Reservoir
Additional information:
Directions: From Bishop take Highway 395 north for 7 miles. Turn right on Pleasant Valley Dam Road. Drive 4 miles to the reservoir and campground.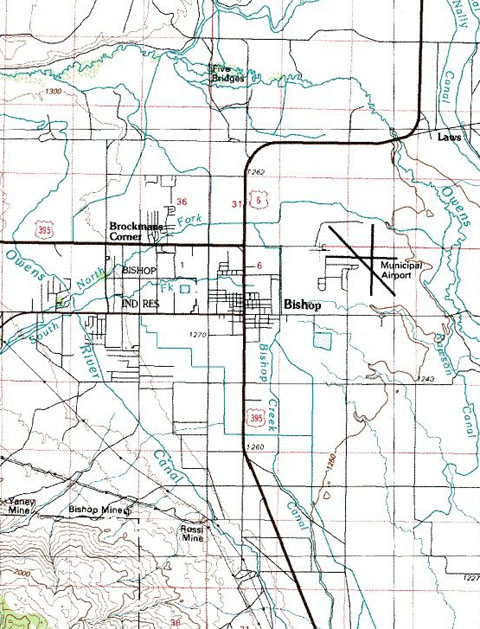 Map courtesy of mytopo.com.