Name of creek: Rock Creek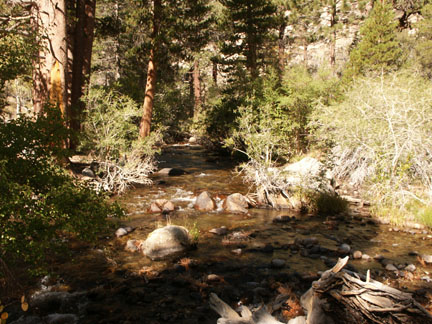 Road condition: Paved
Region: White Mountain Ranger District Drainage: Rock Creek Lake
Description: A small creek with a variety of holding water
Species: Planted Rainbows with some wild Browns and Brookies
Closest town or supplies: Rock Creek Lakes Resort, marina, general store, bait and tackle, cabins, restaurant
Contacts: Rock Creek Lakes Resort, marina, general store, bait and tackle, cabins, restaurant (760) 935-4311; Bishop Chamber of Commerce and Visitor Center (760) 873-8405; Barret's Outfitters (760) 872-3830; Brock's Flyfishing Specialists (760) 872-3581; Culver's Sporting Goods (760) 872-8361; Mac's Sporting Goods (760) 872-9201
Nearest campground: Rock Creek Campground; East Fork Campground; Palisade Campground; Big Meadow Campground; Iris Meadow Campground; French Camp; Tuff Campground
Fishing season: General
Tips:
Favorite lures or bait: Most Sierra creeks are too small to fish effectively with lures and spinners. Your best bet is to poke and dab using salmon eggs or worms or Power Bait. Small weighted jig patterns, especially grubs and very small tube worms work very well, and do not over look live terrestrials if they are allowed. If you are partial to lures bring along small Panther-Martins in a variety of colors. (See Category: Fishing Tips – Best Lures and Bait)
Favorite fly patterns: Using a poke and dab presentation, small Woolly Buggers, Girdle Bugs, Yuk Bugs and terrestrial patterns always work well on creeks. Dry fly patterns include Royal Wulffs, Parachute Adams, Humpies, Renegades, Stimulators, hoppers, ants, beetles and sometimes a Bead-head San Juan Worm. (See Category: Fishing Tips – Best Fly Patterns and Techniques. Also read the article on fishing creeks if you are new to the sport of angling.)
Stocking information: 36,000
Nearby fishing: Rock Creek Lake; Upper Rock Creek; Little Lakes Valley
Additional information:
Directions: From Bishop take Highway 395 nine miles to the Rock Creek Road exit at Tom's Place. Proceed 8 miles to the lake or creek.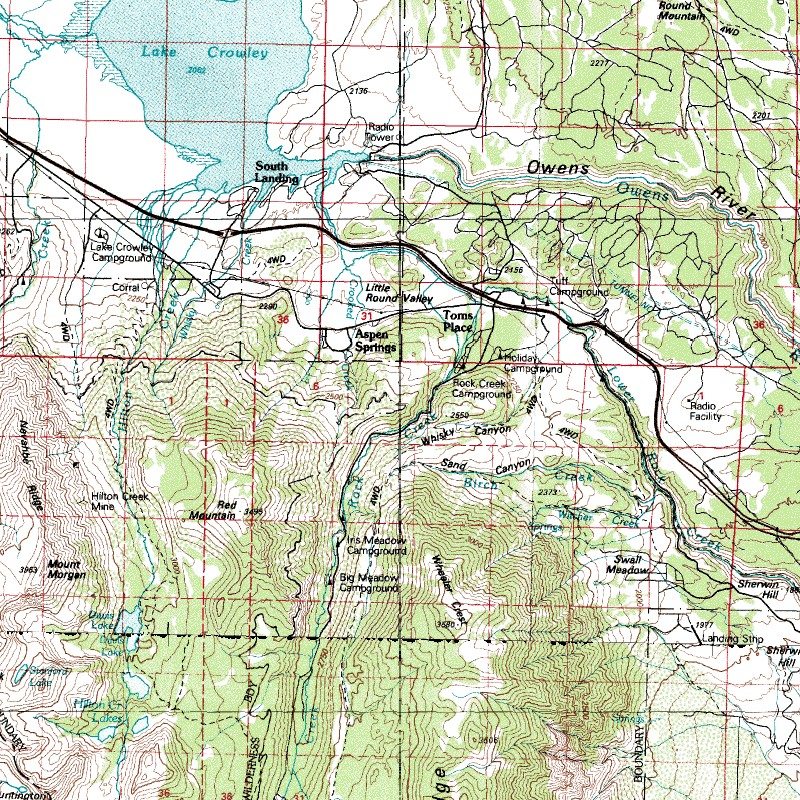 Map courtesy of mytopo.com.