Lake Name: Sabrina Lake Elevation: 9,132
Road condition: Paved road
Day hike fishing: Yes
Region: White Mountain Ranger District (760) 876-6200 Area/description: Bishop Creek drainage
Lake size: 194 acres Species: Rainbows, Browns and Brookies
Closest town or supplies: Area resorts or Bishop
Contacts: Parcher's Resort (760) 872-0334; South Lake Landing; : Bishop Chamber of Commerce and Visitor Center (760) 873-8405; Barret's Outfitters (760) 872-3830; Brock's Flyfishing Specialists (760) 872-3581; Culver's Sporting Goods (760) 872-8361; Mac's Sporting Goods (760) 872-9201
Facilities: Lodge, marina, grocery store, bait and tackle, boat launch
Nearest campground: Sabrina Campground
Boating: 15 mph speed limit
Fishing season: General Best times:
Tips: Popular spots include the inlet and the dam along with the feeder creeks from high mountain lakes.
Favorite lures or bait: Use small lures such as Kastmasters, Daredevils and Panther-Martins. Bring smaller lures, but have a variety of color combinations to entice both shallow and deep cruising trout. (See Category: Fishing Tips – Best Lures and Bait)
Favorite fly patterns: Fly & Bubble technique with small nymphs such as Hare's Ear, Zug Bug, Bead-Head Prince Nymph, Pheasant Tail or a Tellico Shrimp (See Category: Fishing Tips – Best Fly Patterns and Techniques)
Additional information: Sabrina Lake has a good access trail around the perimeter of the lake affording some privacy in the many coves; however, boat traffic is heavy throughout the summer.
Nearby fishing: Bishop Creek
Directions: From Highway 395 in Bishop, turn left (west) on Highway 168 (Line Street) and travel 19 miles to the lake.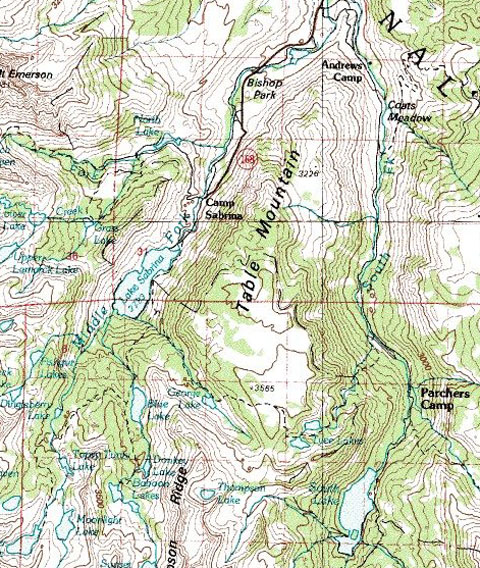 Map courtesy of mytopo.com.