Lake Name: Laurel Lakes Elevation: 10,000
Road condition: Dirt road to 4x4 spur road that is best suited to high-clearance 4x4 vehicles with short axle spacing.
Day hike fishing: A challenging and steep 4.5 mile hike
Region: Area/description:
Lake size: 2 and 8 acres Species: Golden trout
Closest town or supplies: Mammoth Lakes
Contacts: Mammoth Lakes Visitor Bureau (888) 466-2666 / (760)-924-5500; Rick's Sports Center (760) 934-3416; The Trout Fitter fly shop (760) 934-2517.
Nearest campground:
Fishing restrictions: Barbless flies and lures and a 14-inch minimum, two-fish limit
Fishing season: General Best times:
Tips:
Favorite lures or bait: (See Category: Fishing Tips – Best Lures and Bait)
Favorite fly patterns: (See Category: Fishing Tips – Best Fly Patterns and Techniques)
Stocking information:
Additional information:
Nearby fishing: Sherwin Lakes, Mammoth Lakes
Directions: From Highway 395 turn west at the junction with Highway 203. One of the first exit roads from Highway 203 will be the Sherwin Creek Road, which is a dirt road. Look for the Laurel Lakes Jeep Road and Trail at about a mile. This demanding jeep road is approximately 4.5 miles to the lake, and it does require a high-clearance 4x4.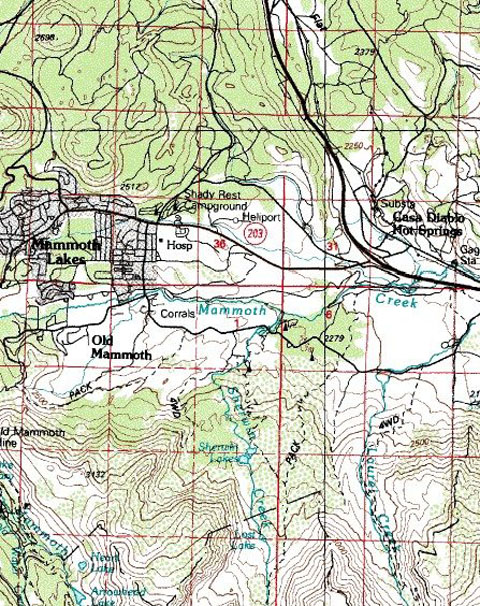 Map courtesy of mytopo.com.