Lake Name: Mamie Lake Elevation: 8,960
Road condition: Paved
Day hike fishing: T.J. Lake, Crystal Lake, McLeod Lake
Region: Mammoth Lakes Ranger District 760-924-5500
Area/description: Mammoth Lakes
Lake size: 19 Species: Rainbows, Browns and Brookies
Closest town or supplies: Mammoth Lakes
Contacts: Wildyrie Lodge (760) 934-2444; Mammoth Lakes Visitor Bureau (888) 466-2666 / (760)-924-5500; Rick's Sports Center (760) 934-3416; The Trout Fitter fly shop (760) 934-2517.
Facilities: Wildyrie Lodge, bike and boat rentals
Nearest campground: Lake Mary (See Category: Camping – Bishop to June Lake)
Boating: A fee launch ramp is provided, but no motors are permitted.
Fishing season: General Best times:
Tips: Be sure to go to the outlet viewing platform to see the falls and Twin Lakes 250 feet down the mountain side.
Favorite lures or bait: (See Category: Fishing Tips – Best Lures and Bait)
Favorite fly patterns: (See Category: Fishing Tips – Best Fly Patterns and Techniques)
Stocking information: 13,000 +
Additional information: Long and narrow, the lake fishes well with a variety of methods.
Nearby fishing: Twin Lakes, Lake Mary, Lake George
Directions: From Highway 395 turn west at the junction with Highway 203 and drive through Mammoth Lakes. Turn on Lake Mary Road and drive past Twin Lakes and Lake Mary to Mamie Lake.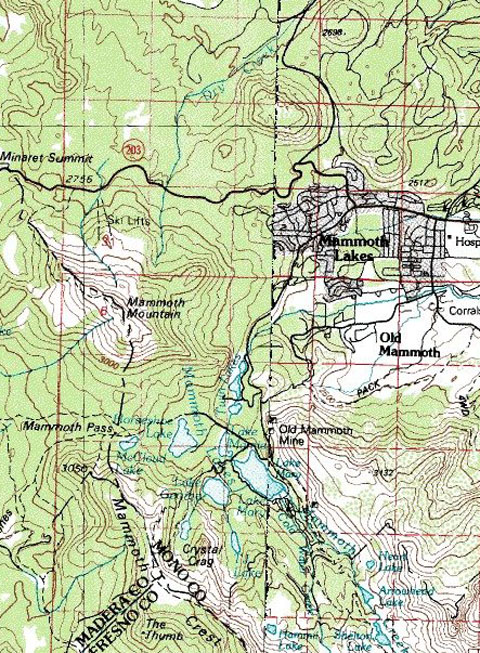 Map courtesy of mytopo.com.