Lake Name: Sherwin Lakes (five small lakes each less than five acres with the smallest (mid-center) being barren. Elevation: 8,600
Road condition: Paved to dirt
Day hike fishing: The hike is a little over two miles on a well-maintained trail
Region: Mammoth Lakes Ranger District (760) 924-5500
Lake size: The largest two lakes at approximately 5 acres are the last in the chain. Species: Rainbows and Brookies
Closest town or supplies: Mammoth Lakes
Contacts: Mammoth Lakes Visitor Bureau (888) 466-2666 / (760)-924-5500; Rick's Sports Center (760) 934-3416; The Trout Fitter fly shop (760) 934-2517.
Nearest campground: Sherwin Creek Campground
Fishing season: General
Tips: Wading is difficult due to the terrain and steep drop-offs.
Favorite lures or bait: (See Category: Fishing Tips – Best Lures and Bait)
Favorite fly patterns: (See Category: Fishing Tips – Best Fly Patterns and Techniques)
Stocking information: Back country stocking program
Additional information / Sherwin Creek: Sherwin Creek is a small creek that is planted with 5,000 + Rainbows in and around the campground
Nearby fishing: Mammoth Lakes
Directions: From Highway 395 turn west at the junction with Highway 203. One of the first exit roads from Highway 203 will be the Sherwin Creek Road, which is a dirt road. Drive approximately three miles to the Sherwin Lakes Trailhead.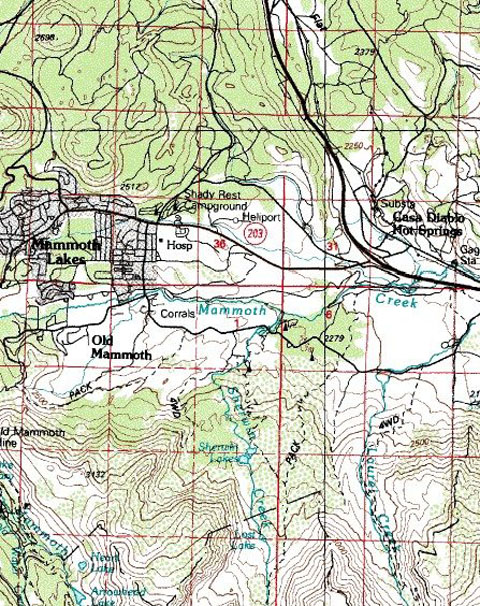 Map courtesy of mytopo.com.