Campground Name: Agnew Meadows Campground
Area: Mammoth Basin /Red's Meadow / Devil's Postpile
Administered by: Inyo National Forest. http://www.fs.fed.us/r5/inyo/ 760-873-2400
Elevation: 8,400
Season Length: 6/8-9/16 subject to weather conditions
Contact: Mammoth Ranger District and Visitor Center (760) 924-5500; http://www.mammothlakeschamber.org/visit.html
http://www.visitmammoth.com/
Number of sites: 21
Fee: $16.
RV sites: Yes RV's up to: 45 feet No Hook-ups: Garbage: containers
Toilets: Vault Water: Yes Picnic tables and fire grills
Nearest town:
Nearby facilities:
Nearby fishing: Middle Fork of the San Joaquin River; Sotcher Lake
Reservations: No
Additional information: Pets must be kept on a leash. Please note that the dates and prices below are subject to change and reflect 2008 data. If listed, the campground opening dates are approximate and subject to weather conditions. The campground is located 1/2 hour from Mammoth Lakes, a full service community with shops, festivals, restaurants, and other services available during the season. The campground has four group sites that can accommodate from 10 to 20 people. Picnic tables, fire rings, potable water and food lockers are provided. There is a resort, store, cafe and pack station located within 5 miles. The campground is located in a lodge pole pine forest, in close proximity to several trailheads into the Ansel Adams Wilderness, with access to the John Muir and the Pacific Crest Trails. Popular activities include fishing, hiking, bird watching, and horseback riding. A narrow, dirt access road is not suitable for trailers or RV's. Pumice Flat Group Campground is safer for visitors with trailers or motor homes. All visitors to the Reds Meadow Valley area may be subject to an access fee. Check with the Forest Service at the Mammoth Lakes Visitor Center (phone # 760-924-5500) for fees, regulations and shuttle bus schedules pertaining to the season.
Directions: From Highway 395 and the junction with Highway 203, drive west through Mammoth Lakes past the ski area. Highway 203 ends at Minaret Summit. Continue 2.5 miles on Reds Meadow Road. Follow the signs to Agnew Meadows campground.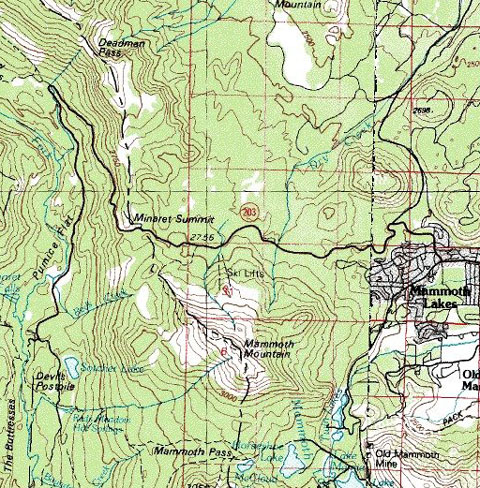 Map courtesy of
mytopo.com
.
Note: If you are visiting the Red's Meadow area via the shuttle bus, here are the scheduled stops:
Agnew Meadows - trailheads for Shadow, Ediza, Thousand Island & Garnet lakes; Pacific Crest & John Muir trails; pack station; & camping;
Starkweather Lake – fishing
Upper Soda Springs Campground – ½-mile walk to camping & river fishing;
Pumice Flat Campground turnoff - camping; group camping by reservation only; Ranger's cabin; pay phone; & amphitheater
Minaret Falls Campground turnoff – 1-mile walk to camping, a view of the falls from the riverbank & river fishing
Devils Postpile National Monument - camping; picnicking; Ranger Station; pay phone; information; books & maps; tours & programs; trailheads for Minaret & Beck lakes, Summit Meadow & John Muir Trail. 1/4-mile walk to the postpile rock formation
Sotcher Lake - fishing; day hiking & picnicking
Reds Meadow Campground - camping; bath house; trailheads for Mammoth Pass & Pumice Flat
Rainbow Falls – trailhead for Fish Creek; 1-1/4 mile hike to the falls
Reds Meadow Resort - pack station; store, cafe, cabins, pay phone.