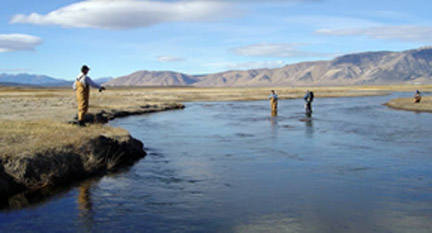 Photo courtesy of David Neal, www.reelmammothadventures.com

Name of river: Upper Owens River – Crestview
Road condition: Paved
Region: Between Mammoth Lakes and June Lake
Description: Meadow spring creek
Species:
Closest town or supplies: Mammoth Lakes or June Lake Village
Contacts: June Lake Chamber of Commerce (760) 648-7584; Mono Lake Ranger District (760) 647-3044; June Lake Marina (760) 648-7539; Ernie's Tackle (760) 648-7756.
Nearest campground: Big Springs Campground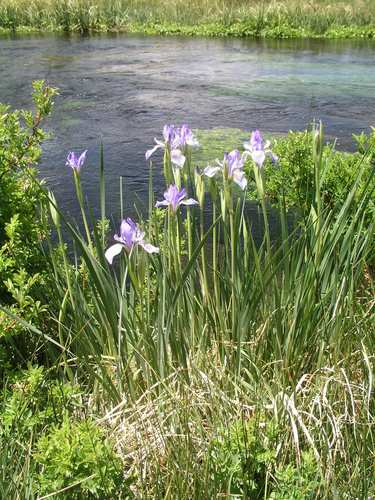 Wild Iris on the Upper Owens River, May 2007. Photo by H. Blackburn. Courtesy of Mammoth Mountain.

Fishing season: General
Tips:
Favorite lures or bait:
Favorite fly patterns:
Stocking information: 24,000+
Nearby fishing:
Additional information: Access to the public is limited to the Big Spring area, which receives heavy pressure throughout the summer months. The water is slow and clear requiring stealth, a low profile and light lines. The small fish are privately stocked by Alpers Trout Farm nearby, but there are wild fish populations. Restrictions: Artificial flies and lures. Another access point is from Benton Crossing Road
Directions: From Highway 395 drive past the junction with Hwy 203 another seven miles north to Owens River Road. Turn right and drive two miles to Big Springs Campground.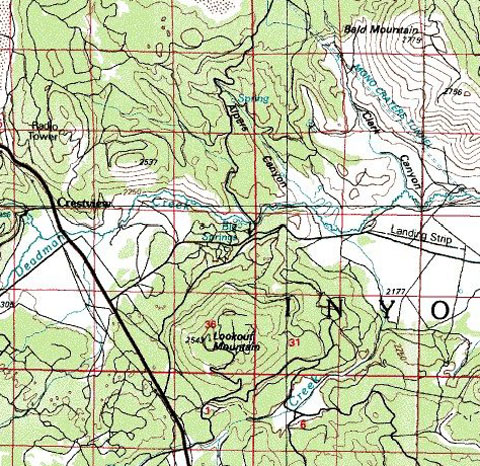 Map courtesy of mytopo.com.