Name of creek: Rush Creek
Road condition: Paved
Region: June Lake Loop Drainage: Silver Lake
Description: Rush Creek is a beautiful creek and receives as much attention as Bishop Creek.
Species: Stocked Rainbows
Closest town or supplies: June Lake Village
Contacts: June Lake Chamber of Commerce (760) 648-7584; Mono Lake Ranger District (760) 647-3044; Grant Lake Marina (760) 648-7539
Nearest campground: Silver Lake and Grant Lake
Fishing season: General
Tips: I learned over 50 years ago to return to Rush Creek during low light hours. The creek is clear, it is heavily fished and the trout dart away and hide at the first sign of humans or artificial lure bombardment.
Favorite lures or bait: Your best bet is to poke and dab using salmon eggs or worms. Small weighted jig patterns, especially grubs and very small tube worms work very well, and do not over look live terrestrials if they are allowed. If you are partial to lures bring along small Panther-Martins in a variety of colors. (See Category: Fishing Tips – Best Lures and Bait)
Favorite fly patterns: Woolly Buggers, Girdle Bugs, Yuk Bugs and terrestrial patterns always work well on creeks. Dry fly patterns include Royal Wulffs, Parachute Adams, Humpies, Renegades, Stimulators, hoppers, ants, beetles and sometimes a Bead-head San Juan Worm. (See Category: Fishing Tips – Best Fly Patterns and Techniques. Also read the article on fishing creeks if you are new to the sport of angling.)
Stocking information: 19,000+
Nearby fishing: Reversed Creek, Silver Lake and Grant Lake
Additional information: The lake is so named as the water moves towards the mountains rather than downs slope and away from the mountains.
Directions: From Highway 395 drive approximately 14 miles past the Mammoth Lakes exit. Turn left at the sign for June Lake.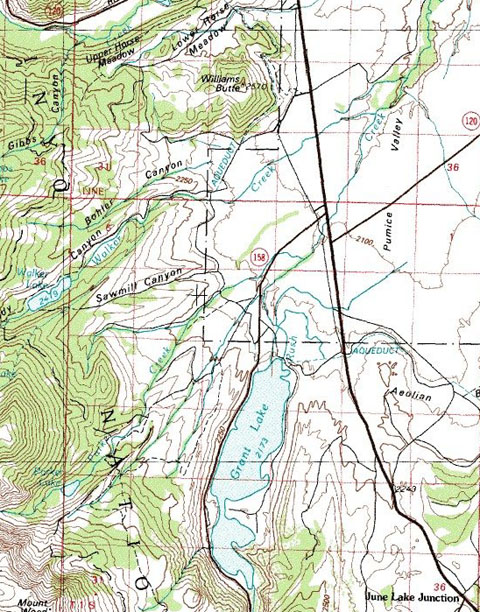 Map courtesy of mytopo.com.