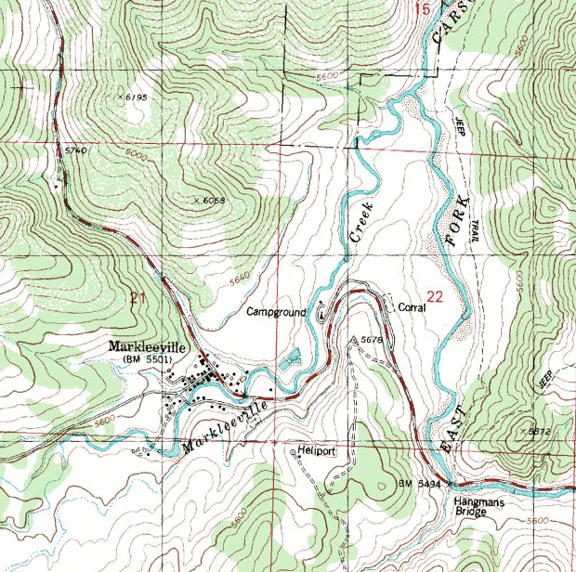 Wolf Creek to the West Fork / High 89
Road condition: Paved
Region: Alpine County / Markleeville Tributaries: Silver Creek and Wolf Creek
Description:
Species: Stocked rainbows
Closest town or supplies: Markleeville
Contacts:
Nearest campground: Silver Creek Campground, Markleeville Campground, Grover Hot Springs State Park, Turtle Rock County Campground, Indian Creek Reservoir Campground
Fishing season: General season
Tips:
Favorite lures or bait:
Favorite fly patterns:
Stocking information: 20,000+ trout in the 10-12-inch range
Nearby fishing: Indian Creek Reservoir, West Fork Carson River
Additional information:
The East Fork of the Carson River from Hangman's Bridge to the Nevada border is designated as a Wild Trout section along its twelve my course to the border. Although the size and catch rates have been disappointing to some, it nonetheless offers a chance at catching wild fish. Bank fishing access is from the bridge downstream or a trail from the Indian Creek Recreation Area leads to the river. Access from the south side of Hangman's Bridge is through private property that so far has not been restricted.

Directions: From Highway 395, turn left at the junction with Highway 89 and proceed over Monitor Pass to the junction with Highway 4. Turn left on Highway 4 to access the upper portion of the East Fork, or continue on Highway 89 to Markleeville and the junction with Highway 88, where the West Fork joins the East Fork.
Markleeville: For tourism information contact: The Alpine County Visitor's Bureau, #3 Webster Street, Markleeville, CA 96120; (530) 694-2475. Email: aplenty@telis.org