Grover Hot Springs State Park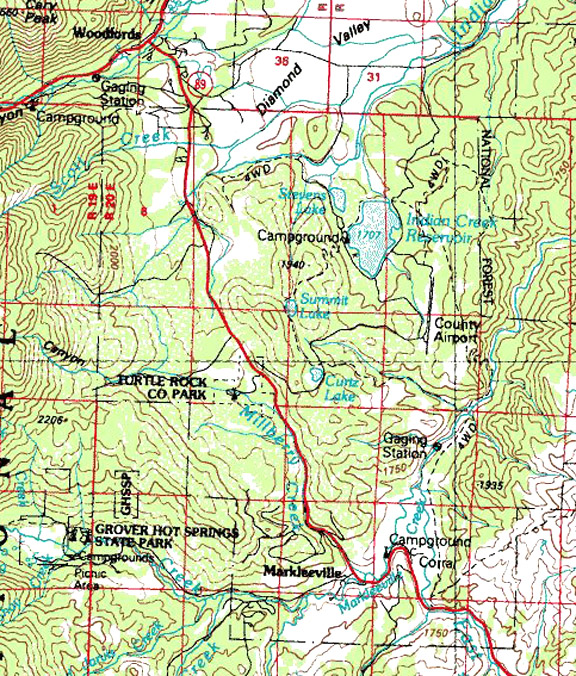 Area: 30 miles south of Lake Tahoe, California / Highway 89 at Markleeville
Elevation: 6,000
Administered by: California State Parks (www.parks.ca.gov/) General information: (530) 694-2248; Pool information: (530) 694-2249
Features: The state park has a pool complex with a hot pool and a swimming pool fed by hot springs, along with a campground, picnic area and hiking trails. Hot Springs Creek is stocked with trout providing there is sufficient water flow.
Season: Open-year-round. The facilities are closed during severe storms, and seasonal hours and days of operation change during the off-season months so it is best to call in advance. During the winter months, the pool is closed on Wednesdays. The pool facilities are closed for two weeks in September for cleaning and maintenance.
Number of camping sites: 76, two of which are designed for wheelchair use and accessible restrooms are nearby. The campgrounds are closed from early October to May. Camping is permitted in the day-use area adjacent to the park entrance during the winter for a $20 fee. (No showers)
Fee: $20-25, $6. for additional vehicle. Pool fees are $5 for adults and $2 for children
Tent sites: 26 RV sites: 50 RV's up to: 27-feet and trailers up to 24-feet No Hook-ups
Garbage: containers Bear-proof food storage lockers
Toilets: Flush Water: Yes Picnic tables and fire grills
Showers: Coin operated – summer only
Nearest town: Markleeville
Facilities: A small grocery store is four miles away.
Nearby fishing: East and West Forks of the Carson River (See Highway 89, 4,88)
Reservations: Yes. (Reservation fee)
Additional information: Pets must be kept on a leash. Please note that the dates and prices above are subject to change and reflect 2008 data. For a reservable campsite, phone toll free at 877-444-7275. For on-line reservations: www.reserveamerica.com.
Directions: From Markleeville take the Hot Springs Road four miles to the park.