June Lake Loop: June Lake Loop is a 14-mile loop off Highway 395 beginning about fifteen miles north of Mammoth and exiting back on Highway 395 a few miles south of Lee Vining. Noted for its scenic beauty and towering mountains, the loop winds through elegant summer homes, June Lake Village and four lakes: June, Gull, Silver and Grant Lake. Reverse Creek, joining Gull Lake with Silver Lake, and Rush creek, joining Silver Lake and Grant Lake provide additional fishing and picnicking opportunities. For those who enjoy day hikes, Parker Lake and Walker Lake provide good fishing opportunities. June Lake Loop is another Sierra scenic wonderland.
Map courtesy of http://mytopo.com/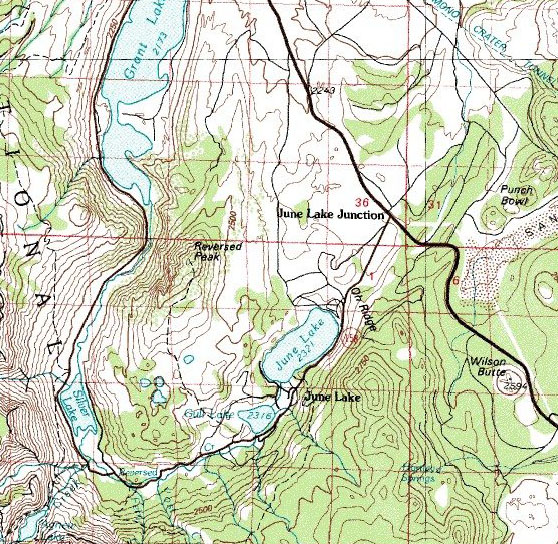 Lake Name: June Lake Elevation: 7,650
Road condition: Paved
Day hike fishing: Parker Lake
Region: Mono Basin Scenic Area Ranger Station & Visitor Center 760-647-3044 Area/description: June Lake Loop
Lake size: 320 Depth: 140 Species:
Closest town or supplies: June Lake Village
Contacts: June Lake Chamber of Commerce (760) 648-7584; Mono Lake Ranger District (760) 647-3044; June Lake Marina (760) 648-7539; Ernie's Tackle (760) 648-7756.
Facilities: Lodge, motels, marina, boat launch, grocery store, bait and tackle, RV campground
Nearest campground: June Lake Campground; Pine Cliff Resort
Boating: No motor restrictions
Fishing season: General Best times:
Tips:
Jeremy Ross, manager of Ernie's Tackle and Ski, recommends as his "First Choice Selections" the following bait and lures: Countdown Rapala lures in rainbow, brown, gold, fire-tiger and perch color patterns. His first choice for Kastmaster lures is the Cutthroat, Metalic Perch followed by gold and silver; his next first choice selection is Thomas Buoyants in Gold-Red, Silver-Blue, Fire Tiger and Rainbow. His first choice selection in bait is inflated night crawlers and Power Bait or Gulp. His "Second Choice Selections" are original Rapala lures, Dare Devil lures in red and white and salmon eggs. Jeremy recommends Power Eggs or Nitro Eggs as well as Pautske Red or Green label eggs. Finally, he rounds out his recommendations with Mepps Aglia in assorted colors, Trout Teasers and Panther Martin and Tazmanian Devils.

Favorite lures or bait: Trollers do well on June Lake (See Category: Fishing Tips – Best Lures and Bait)
Favorite fly patterns: (See Category: Fishing Tips – Best Fly Patterns and Techniques)
Stocking information: 85,000 + Alpers + fingerling plants
Additional information: June Lake offers a beach and swimming on its eastern shore
Nearby fishing: Gull Lake, Reverse Creek, Silver Lake, Rush Creek, Grant Lake
Directions: From Highway 395 drive approximately 14 miles past the Mammoth Lakes exit. Turn left at the sign for June Lake.