Name of creek: Reversed Creek
Road condition: Paved
Region: June Lake Loop Drainage: Gull Lake to Silver Lake
Description: A three-mile meadow type creek meandering through national forest, resorts and private property.
Species: Stocked Rainbows along with cruising trout from both Gull and Silver Lake
Closest town or supplies: June Lake Village
Contacts: June Lake Chamber of Commerce (760) 648-7584; Mono Lake Ranger District (760) 647-3044; Gull Lake Marina (760) 648-7539
Nearest campground: Gull Lake and Silver Lake
Fishing season: General
Tips: Fish the waters close to both lakes.
Favorite lures or bait:
Favorite fly patterns:
Stocking information: 1200
Nearby fishing: June Lake, Gull Lake, Silver Lake, Rush Creek, Grant Lake
Additional information:
Directions: From Highway 395 drive approximately 14 miles past the Mammoth Lakes exit. Turn left at the sign for June Lake.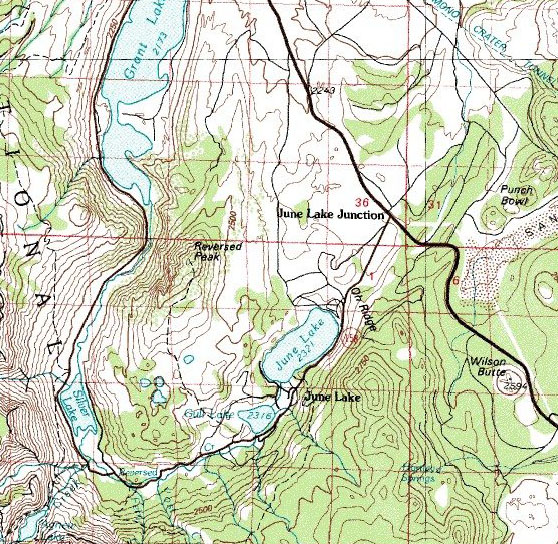 Map courtesy of mytopo.com.