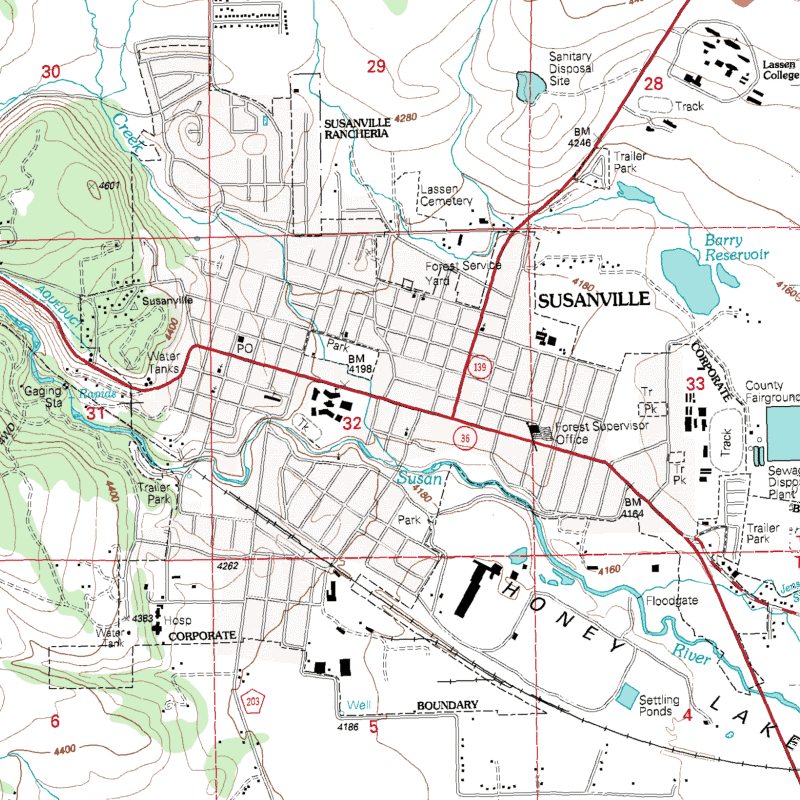 Susanville, California
Highway 395, 86 miles northwest of Reno, Nevada
Photo Gallery
Services and Accommodations: Apple Inn Motel (530) 257-4726; Best Western Trailside Inn (530) 257-4173; Budget Host Frontier Inn (530) 257-4141; Diamond View Motel (530) 257-4585; High Country Inn (530) 257-3450; Knights Inn Motel (530) 257-6577; Motel 9 (530) 251-5702; Roseberry House B&B (530) 257-5675; River Inn Motel (530) 257-6051; Super 8 Motel (530) 257-2782; Susanville Inn (530) 257-4522; Mountain View RV Park (530) 251-4757
Public Internet Use Facilities:
Museums and Point of Interest: (See information below.)
Events and Festivities: (spring) Best of Broadway, Junior Fishing Derby, Children's Fair, (summer) Junior Rodeo, Main Street Cruise, Lassen County Fair, Susanville Air Fair, (fall) Biz Johnson Marathon, Eagle Lake Triathlon, Susanville Powwow, (winter) Eagle Lake Snowshoe Walks, Magical Country Christmas. Recurring Events: symphony, adult gaming, art shows, farmer's market, rodeo events, motorcross and auto racing.
Summer Recreation: Biking, Birding, Camping, Fishing, Golfing, Hiking, Hunting, Horseback Riding, Photography,
Sporting Goods Stores: The Men's Den (530) 252-4747
Fly Shops:
Nearby Fishing: Eagle Lake
Nearby Camping: Eagle Lake
Lassen County Chamber of Commerce: (530) 257-4323, www. lassencountychamber.org
Community Parks:
Tours and Side-Trips:
Weather wrh.noaa.gov
Recreational Contacts: Eagle Lake Recreation Area and Marina (530) 825-3454; Scenic flights from Susanville Aviation (530) 257-2030
Government Contacts: Lassen National Forest, 2550 Riverside Drive, Susanville, CA 96130, (530) 257-2151; Bureau of Land Management, 2950 Riverside Drive, Susanville, (530) 257-0456
RV Contacts:
Expanding Above Information / Alphabetical Order
Biz Johnson Trail: (bicycling, hiking, equestrian, camping, fishing) "This trail runs from Susanville to Westwood along an old railroad line that ran next to the Susan River. The 26-mile trail offers majestic views of the river canyon and the east slope of the Sierra. It is an ideal, multi-use trail." –Lassen County Visitor's Guide
Diamond Mountain Casino, 900 Skyline Drive, Susanville, CA 96130 (530) 252-1100
Diamond Mountain Golf Club (530) 252-1100
Honeylake Motorcross Park (55 miles north of Reno and 28 miles south of Susanville on Highway 395
Lassen County Fair, third week in July (530) 251-8900
Lassen Historical Museum, 115 Weatherlow Street, Susanville (530) 257-3292. May to November, Monday through Friday, 10 am to 4pm.
Susanville Historic Railroad Depot Museum, 601 Richmond Road, Susanville (530) 257-3252. Open 9am-5pm, all week from May – Oct.