East Fork of the Carson River and Wolf Creek (headwaters) / Highway 4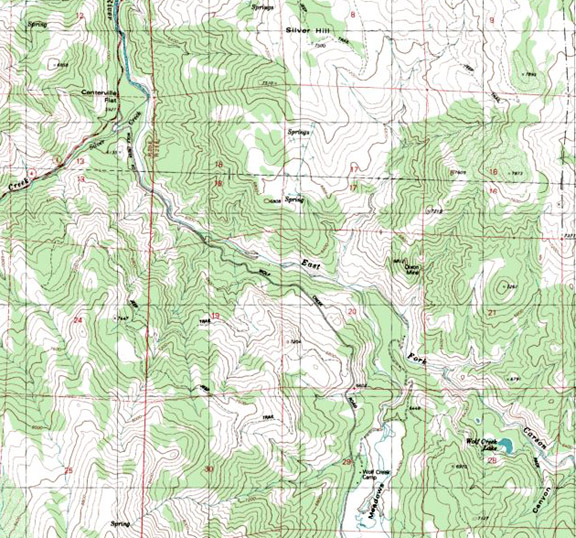 Road condition: Paved to gravel
Region: Alpine County / Markleeville Drainage: Carson-Iceberg Wilderness
Description: Coursing out of the Carson-Iceberg Wilderness, the East Fork plunges down through a steep canyon to enter Wolf Creek Meadows. This is the furthermost section of the river accessed by vehicle. Good fishing can be experienced all along Wolf Creek Road, as well as along Wolf Creek. From Wolf Creek to Carson Falls, which is approximately fourteen miles, the river is classified as a Wild Trout stream. Above the falls the stream and its tributaries are closed to protect Lahontan cutthroats.
Species: Stocked rainbows along the access road from Highway 4 to Wolf Meadows, which is approximately six miles from the Highway 4 turn-off. Wolf Creek beyond the meadows has wild trout populations.
Closest town or supplies: Markleeville
Contacts: Alpine Fly Fishing, 14841 Highway 89, Markleeville, CA 96120, (530) 542-0759 0r (530) 694-2562.
Nearest campground: Primitive camping spots are available in the area, or you may camp at Silver Creek Campground on Highway 4.
Fishing season: General season
Tips: Bring mosquito repellant as well as mosquito head netting tucked in your vest if the fishing is good but the vector attacks are in full force.
Favorite lures or bait:
Favorite fly patterns:
Stocking information: 20,000+ trout in the 10-12-inch range
Nearby fishing: Silver Creek (small, heavy willow thickets)
Additional information: At Wolf Meadows the dirt road forks. The left fork is a 4x4 ranch road that leads to Dixon Mine. This rough road only goes about a mile and dead-ends on a bluff over-looking the East Fork. Follow the right fork through the meadow section to a primitive campground. Anglers willing to hike up Wolf Creek will be rewarded with small, but wild rainbows.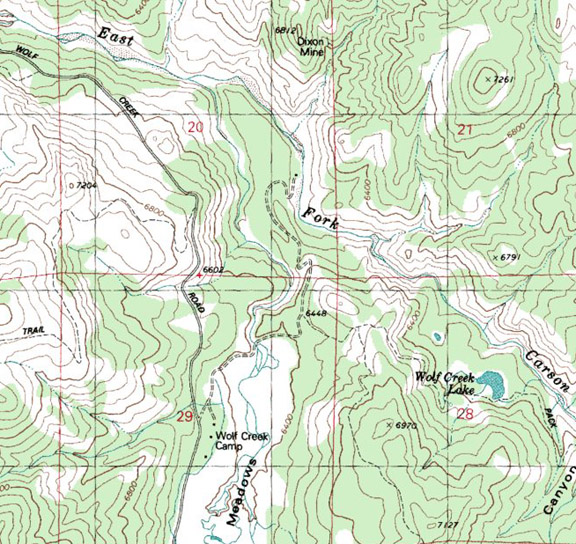 Directions: From Highway 395, turn left at the junction with Highway 89 and proceed over Monitor Pass to the junction with Highway 4. Turn left on Highway 4 and drive ___ miles to the Wolf Creek Road. Turn left on Wolf Creek Road to Wolf Creek Meadows. The road is paved for ___ miles and changes to a dirt and gravel road.

Maps courtesy of mytopo.com