Highway 395, 15.6 miles north of Big Pine and 20.5 miles south of Tom's Place
Restaurants and Eateries: (My favorites) Bar-B-Q Bills (760) 872-5535; Erick Schat's Bakkery (760) 873-7156; La Casita (760) 872-2326
Public Internet Use Facilities:
Museums and Point of Interest: Laws Railroad Museum (760) 647-6445; Paiute Shoshone Indian Cultural Center

Events and Festivities/ March 15: Blake Jones Trout Derby – Bishop Chamber of Commerce; April 26: Opening Day for the General Trout Season; May 23-26: Memorial Day Arts and Craft Show; August 28-September 1: Eastern Sierra Tri-County Fair; September 27-28: California Wild Horse and Burro Show); November 15: General Trout Season Closes.
Summer Recreation: Biking, Birding, Camping, Fishing, Golfing, Hiking, Horseback Riding, Mountaineering, Photography, Rock Climbing
Winter Recreation: (See Mammoth Lakes)
Sporting Goods Stores: Barrett's Outfitters (760) 872-3830Culver's Sporting Goods (760) 872-8361; Mac's Sporting Goods (760) 872-9201; Wilson's Eastside Sports (760) 873-7520
Fly Shops: Brooks Flyfishing Specialists (760) 872-3581; Owen's River Fly Shop (760) 872-3830 - www.owensriverflyshop.com

Nearby Fishing: Home: Bishop: Fishing Fishing Tips (Bishop Creek, Heart Lake, Intake II, Mack Lake, McGee Creek, North Lake, Owens River, Pine Creek, Pleasant Valley Reservoir, Rock Creek, Rock Creek Lake, Ruby Lake, Sabrina Lake, South Lake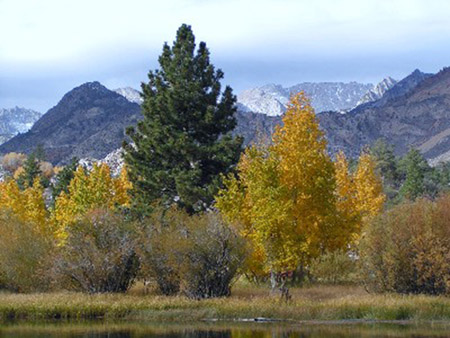 Photo courtesy of Bishop Chamber of Commerce

Nearby Camping: Home: Bishop: Camping (Big Trees Campground, Bishop Park Campground, Bitterbrush Campground, Forks Campground, Four Jeffrey Campground, Horton Creek Campground, Intake II Campground, Pleasant Valley Campground, PV Pit Campground, Mountain Glen Campground, North Lake Campground, Sabrina Lake Campground, Willow Creek Campground)

Bishop Chamber of Commerce
690 N. Main St., Bishop, California 93514; 760-873-8405; 888-395-3952 Toll free
Visitor center hours: 10AM to 5PM M-F 10AM to 4PM Weekends
Community Parks:
Tours and Side-Trips: Bishop Creek Canyon, Buttermilk Country, Fish Slough, Volcanic Tableland
RV Related:
Recreational Contacts: Bishop Country Club golf course (760) 873-5828; Bishop Pack Outfitters (760) 873-4785; Paiute Palace Casino; Keough's Hot Springs (760) 872-4670; Pine Creek Pack Station (760) 387-2797; Rainbow Pack Outfitters (760) 872-8803. Rainbow Pack Outfitters offers overnight pack trips into the John Muir Wilderness and into King's Canyon Wilderness. They also offer guided day rides and fishing trips in the Bishop Basin.

Government Contacts:
Bureau of Land Management (Bishop Office) 787 Main Street, Suite P, Bishop, CA 93514
Department of Fish and Game: 407 W. Line Street, Bishop, CA 93514 (619) 872-1171 Season dates, licenses, restrictions, fish stocking etc.
Photo courtesy of Bishop Chamber of Commerce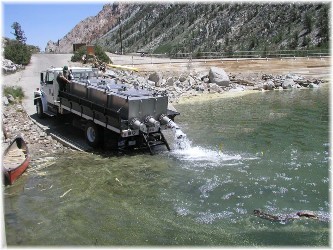 Inyo National Forest: books, maps and wilderness passes and permits: Mt. Whitney Ranger Station (760) 873-2500; White Mountain Ranger Station (760) 873-2500; Mammoth Ranger Station (760) 924-5500 www.fs.fed.us/r5/inyo
Bishop Expansion Notes in Alphabetical Order
The Ancient Bristlecone Pine Forest
Across the broad Owens Valley lays a parallel mountain range that stretches east of Lone Pine northwards into Nevada. The White and Inyo Mountains, bereft of rainfall as storms stall over the high Sierra, rise to impressive heights in a seemingly barren landscape. The third highest mountain in California, and the largest mountain in this range, is White Mountain Peak at 14,246 feet. Home to bighorn sheep, wild horses, deer and mountain lion, along with many species of birds, the White Mountains are home to the oldest living species in the world – the ancient Bristlecone Pine trees. In this cold and desolate region, visitors, may visit and photograph "Methuselah", a 4,774 year-old, or they may visit "Patriarch", the largest of the ancient Bristlecone Pines, who is a youngster at 1,500 years.
Unassuming in height, the Bristlecone Pine grows on barren, windswept slopes with little surrounding vegetation, which protects them from wildfire danger. Stout and gnarly, their twisted limbs entwine as they stand proud survivors and testimony to the rigors of nature and time not in decades or centuries but in millennium. Slow to grow, their dense wood core wards off insects and disease. Dr. Edmund Schulman, who discovered the trees in the 1950's, has studied the ring growth in living and dead trees and provided a 9,000 year record of weather patterns for the region.
The Ancient Bristlecone Pine Forest is 36 miles from Big Pine. The last thirteen miles are unpaved and rough in places. A picnic site is located at approximately 16 miles. The only campground is Grandview Campground, a few miles north of the Cedar Flat Information Center. The next stopping point is the Sierra Overlook at 9,000 feet elevation. From this vista, the sweeping Sierra Mountains can be identified from a map display to help identify Mt. Whitney in the southern region and Mt. Dana in Yosemite to the north. Below the broad plain of Owens Valley stretches from Lone Pine to Bishop, and looking to the east, one can see the mountain peaks surrounding Death Valley. Up the road is Schulman Grove Visitor Center. Picnic tables and rest rooms are available, as well as Methuselah Walk, a trail to Old Methuselah. Patriarch Grove lies ahead at an elevation of 11,000. This final destination is reached on a narrow dirt road not recommended for large RV'. From the parking area, it is a short walk to see the "Patriarch", the largest of the Bristlecone Pine trees.
To visit Ancient Bristlecone Pine Forest, turn east on Highway 168 from Highway 395 in Big Pine. After thirteen miles, turn left onto Road 01, a signed road to the forest.
Bishop
With the discovery of gold in Aurora, miners poured into an isolated region 30 miles southwest of Hawthorne, Nevada. The population swelled to 10,000 people, and in less than ten years $27 million dollars in gold came out of the mines that both California and Nevada claimed to be under their jurisdiction. These hungry miners needed beef, and Samuel Bishop meant to supply them. From his home at Fort Tejon, in the mountains above San Fernando Valley, he and his wife and a number of hired hands drove 600 cattle and 50 horses 250 miles to where he claimed a ranch on Bishop Creek. Arriving August 22, 1861, he joined just a handful of other white settlers to claim land in the Owens Valley. The local native inhabitants lived near Bishop Creek and diverted the creek to irrigate fields of tabose, a yellow grass with edible tubers. Within a year armed settlers attacked a band of Paiute Indians who had killed a stray cow. Conflict over land and water escalated, and after a few years Samuel Bishop and his family returned to their more settled area of Fort Tejon.
By 1863 a stage coach line was established from Bishop to Aurora. Conflict with the natives and the ensuing up-risings necessitated an army outpost in Independence. With the Army in control, it was obvious that more than beef was on the menu for miners throughout Inyo County, and soon Bishop became a farming hub for the region.
Continuing silver and gold strikes brought in the Carson & Colorado Railroad that connected Owens Valley with mines to the north, south, east and west. Bishop incorporated in 1903, and by 1906 it claimed to have the world's wealthiest gold mine up in Bishop Canyon. The biggest boom, however was in the 1930's when the mining operation reworked their claims and produced $1.5 million in gold. By the turn of the century, the city of Los Angeles desperately needed water for their burgeoning population. They quietly began purchasing farms and ranches, along with the water rights throughout the region. By 1913 the Los Angeles Aqueduct began draining the region, and within a few years farming declined substantially. The next fortune was made from the hydroelectric powerhouses, which tapped Bishop Creek.
With little private land to expand, Bishop nonetheless became prosperous as the tourism hub of Inyo County. Regional and national exposure of the natural wonders of the area, spawned in part from the exposure of Hollywood films crews during the 1920' and 30's, transformed Bishop and Mammoth into a recreational playground for southern California. Today Bishop is best known for Mule Days during Memorial Weekend, the Tri-County Fair and Rodeo in July and the Labor Day weekend rodeo. For an excellent overview on the history of Bishop, visit the Bishop Chamber of Commerce web site.
Blake Jones Fishing Derby
The next derby will be held Saturday, March 15, 2008. The Blake Jones Trout Derby is held every March....The site of the derby is along the Owens River, just below the Pleasant Valley Reservoir, six miles north of Bishop. Put on by the Bishop Area Chamber of Commerce & Visitors Bureau, this pre-season event is a great chance to wet your line and hone your fishing skills while getting a chance to win big prizes!

Fishing during the derby is allowed in the reservoir and along the river only as all others waters are closed until the last Saturday in April. Tons of trout are planted just before the derby by both Alpers Trout Hatchery and the DFG. and you can enter your catch in any number of categories including "Blind Bogey" and "Big Fish" for a chance to win your part of over $10,000 in prizes including high quality rod & reel combos, float tubes, custom lures, lodging, dinners and other goodies from local merchants and friends of the Bishop Chamber.... During the derby, you are allowed to fish in both the Pleasant Valley Reservoir and any section of the lower Owens River (except the catch & release Wild Trout area) and bring your catch to the derby headquarters at the reservoir to have them weighed by Hal and the crew.

Each participant receives five "fish cards" so that one can enter up to five fish (the legal limit) in the contest to increase the chance of winning. Everyone's fish cards are put into the hopper and those that match the Blind Bogey weight will win prizes. There are also prizes for "Biggest Trout" plus lots more!
The Blind Bogey fish this year weighed 11oz. (caught by a secret fisherman two days before the derby) and 20 lucky fishermen who caught fish that matched that size had their fish cards drawn with first prize a fisherman's dream package contributed by local sporting goods dealers Barrett's Outfitters, Mac's Sporting Goods and Culver's Sporting Goods along with the Paiute Palace, Sears, Berkley and Cabelas.

Who was Blake Jones?
Whenever you bait your hook with Powerbait or any of the other modern cheese baits, you can thank the late Blake Jones. Jones invented cheese bait which was unique when it was introduced back in the 1950s. Before Blake Jones came along anglers had to use Velveeta cheese spread or cut small pieces from a block of cheese which easily fell off the hook when immersed in water. Blake's special cheese bait stayed on the hook even during heavy casting. But Blake Jones was probably best known as one of the legendary anglers in Bishop. Along with his wife, Peggy, he fished all over the high country and taught hundreds of people how to fish thelakes and streams of the High Sierra. Longtime local resident and business owner Don Barrett explained. 'They were the type of people who would never hesitate and help people fish. They might hand someone a jar of bait and show them how to use it. They were just that way.'"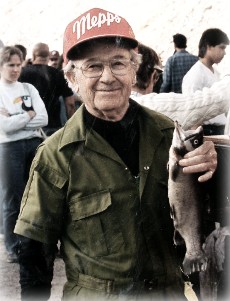 For complete details on the derby go to www.bishopvisitor.com

Photo courtesy of Bishop Chamber of Commerce.




















Buttermilk Country

Named by a local dairyman back in the 1870's, the area is quite popular with family rock climbers and "bouldering" experts alike, who use only their fingers and toes to climb. The area is beautiful in the spring both for wildflowers, birds and a large deer herd that winter in the area. To reach Buttermilk Country, turn west on Line Street (Highway 168) from Highway 395 in Bishop. Drive 7.3 miles and turn right on Buttermilk Road. Proceed to the turn-around.

Fish Slough / Volcanic Tableland

One of the best tour guides for Inyo County may be found on line or at Ranger District Headquarters or at Visitor Centers. Motor Touring in the Eastern Sierra including Death Valley covers self-guided tours for sport utility vehicles. One such tour route is Fish Slough, Red Rock Canyon and Casa Diablo. Following the old Carson & Colorado railroad route through Chalfant Valley in the shadows of the stark White Mountains, this loop tour will take you to historic Fish Slough, a native fish sanctuary and wetland area important to the Paiute Indians. It is here that they harvested native Indian rice and fished and hunted. Today this small remnant of desert marshland is being protected by the Bureau of Land Management as an Area of Critical Environmental Concern. Bird watchers and naturalists will enjoy the many varieties of ducks, raptors and herons. Continuing on Fish Slough Road, the loop circles up through Red Rock Canyon and then southward to Casa Diablo Mountain, where drivers must chose their exit route back to

Bishop or connect with the Benton Crossing Road. (Be sure to have a Inyo County map or the Inyo National Forest map along with safety provisions.) The Volcanic Tableland is a vast high-desert outback, to borrow a name from those Down Under. From Highway 395 in Bishop at the intersection with Highway 6, turn right on Highway 6 and proceed 1.3 miles to Five Bridges Road. Turn left on this road and drive 2.3 miles to Fish Slough Road. The motor tour guide should be in your possession. They suggest setting your trip meter as the "directions, especially for Route 13, depend upon knowing your mileage."

Keough's Hot Springs.

With a claim to be the Eastern Sierra's largest natural hot springs pool, Keough's Hot Springs has a long history for soaking tired bodies in geothermal spring water. During the 1920's and 30's, Keough's Hot Springs was a health and leisure resort. Valley residents then and now hold barbecues and picnics. I have fond memories of swimming here as a youngster in the late 1940's. At that time it had a little train that circled the premises. I know that I will be returning soon. The hot spring pool is located seven miles south of Bishop, just off Highway 395. For information call (760) 872-4670.

To provide a correction or offer a suggestion, email David Archer.




Companion Web Sites:


Glacier to Yellowstone (A complete guide to camping and fishing in Montana from Glacier to Yellowstone)

Fishing Tips 101 (Offering a "Mastering the Basics" series for freshwater fishing)

Bass and Trout Fishing Digest (Dave's hodge-podge of fishing adventures in Northern California and Oregon)