Lake Name: Crowley Lake Elevation: 6,781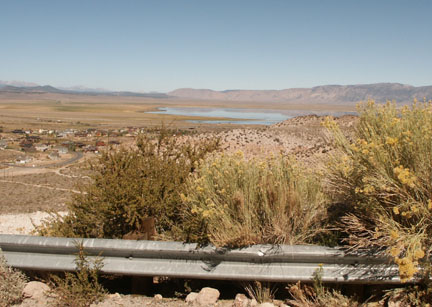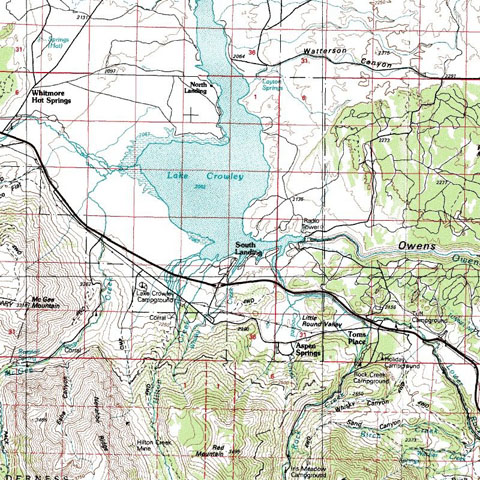 Road condition: Paved
Day hike fishing: Mammoth Lakes area
Region: Mammoth Lakes Ranger District 760-924-5500
Area/description: Mammoth Lakes area
Lake size: 5,000+ acres Species: Rainbows, Browns, Cutthroats, and Sacramento Perch
Closest town or supplies: Tom's Place, Mammoth Lakes, Bishop
Contacts: Bureau of Land Management-Bishop Field Office (760) 872-4881; Crowley Lake Fish Camp (760) 935-4301; Mammoth Lakes Visitor Bureau (888) 466-2666 / (760)-924-5500; Rick's Sports Center (760) 934-3416; The Trout Fitter fly shop (760) 934-2517.
Facilities: Lodge, marina, grocery store, bait and tackle, coin-laundry, coin-showers, RV campground; fish cleaning station
Nearest campground: Crowley Lake Fish Camp; Crowley Lake Campground (BLM) Upper and Lower Pine Grove Campgrounds (BLM); and primitive camping areas at the north end of the lake.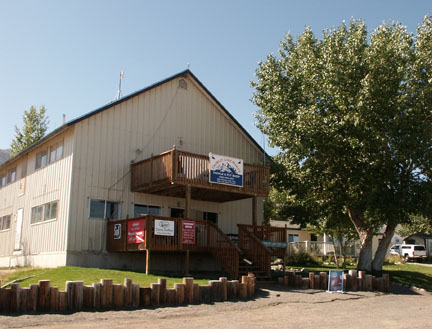 Boating: No restrictions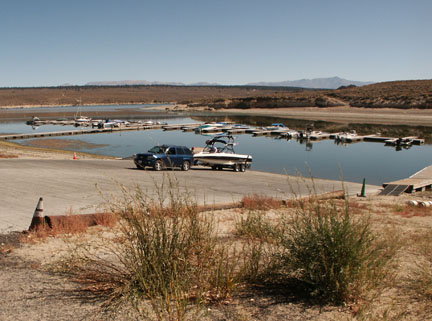 Fishing season: General Best times: Opening Day and during the fall, although fly fishing anglers do well from float tubes all season. Note: Read the regulations carefully as Crowley Lake has seasonal changes and restrictions.
Tips: Fly fishers, in addition to Chironomid patterns and damselfly imitations, should have a number of streamer patterns in their fly box to imitate the Sacramento perch fry. One popular pattern is the Olive Matuka
Favorite lures or bait: (See Category: Fishing Tips – Best Lures and Bait)
Favorite fly patterns: (See Category: Fishing Tips – Best Fly Patterns and Techniques)
Stocking information: 700,000 plus!
Additional information: With shallow shorelines, abundant insect and plant life, many tributaries and the Upper Owens River as its primary source, it is no wonder that this man-made reservoir has been an outstanding trout producer since its creation in 1941. Crowley Lake is renowned for trout growth, an abundant stocking program, yearly carry-over survival rates and trophy size fish. Add a large and healthy population of Sacramento Perch, and it is no wonder that opening day sees upwards of three thousand boats.
West side of lake: Bait fishing from shore: Whiskey Bay, Beaver Cove and Hilton Bay; trollers work the west shore from Hilton Bay to McGee Bay around the north end of the lake in the Green Banks bay working the old riverbed channel.
North end of lake: Green Banks – popular with float tubers and bait fishermen
East side: Layton Spring and Alligator Point are popular spots for all methods
Bait: Power Bait; night crawlers, salmon eggs
Jigs and large Rapalas and lures representing minnows; popular lures also include Thomas Buoyant, Kastmaster, Panther-Martins, Red Devils and swim baits
Fly anglers generally work the west shoreline from McGee Bay to the Green Banks
Spring perch bite from late May through June in weedy, shallow areas during the spawn; use mini-jigs and small worms; no possession or daily limit.
Nearby fishing: Convict Lake, Convict Creek, Owens River, Hot Creek, Rock Creek drainage and Mammoth lakes.
Directions: From Highway 395 drive 31 miles north of Bishop to the Crowley Lake Road. Turn right and drive a half-mile to the lake. (Note: access to the northern part of the lake may be reached from Benton Crossing Road. Turn right past the church and turn right again on the second dirt road after you pass Whitmore Hot Springs. Continue through a cattle gate. (Be sure to close it again.) Continue to the left until you reach the Green Banks, an area where the Upper Owens River enters the lake. The City of Los Angeles allows access to the lake (no camping) on the eastern side of the lake a well. Take the Benton Crossing Road until you cross the Owens River by the campground. Continue on this road as it veers south until you see the parking area.